Why a Pet Fence Makes Sense for Your "Best Friend"
One thing you can say about dogs is, they're curious. Another thing you can say is, getting them to stay in one place simply because you want them to is no easy chore. For most homeowners and dog-keepers, a pet fence can solve a multitude of problems and enhance the eye appeal (and possibly the value) of your property in the bargain.
Things to consider when thinking about a new pet fence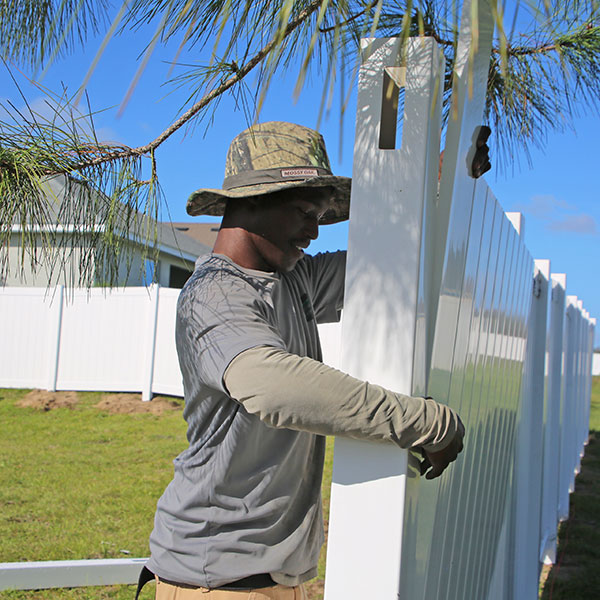 An important consideration with a new pet fence is how it will look on your property. Just about any kind of fence – as long as the materials are well-made and the structure is properly installed – can keep your dog on your property. Knowing this, put some thought into the type of fence you'd like to have.
Vinyl: Vinyl fences are long-lasting and strong. They retain their color and need minimal maintenance.
Wood: Wood brings a traditional look to a property and is quite sturdy. Wood fences can be painted or stained to add personality to your home.
Chain link: Chain link fences are economical choices and provide many years of performance and great looks. Slats can be added to block the view, if that's important to you.
Metal: Metal/aluminum fencing is virtually indestructible and adds a real touch of elegance and class to any property.
You can do some research or talk with your local Florida fencing contractor to learn more about the advantages of different types of fencing.
Fencing for dogs
Of course, your dog probably doesn't care one way or the other what the new fence looks like. But there are certain specific considerations for homeowners where fencing for dogs is concerned. Here are three of them.
Height of the fence
Some dogs are jumpers – a four-foot fence is nothing more than a minor hurdle for them. Some dogs are also climbers. Watching a determined Lab or Border Collie scale a fence is something you won't soon forget – especially if it's your dog trying to escape.
If you have this kind of dog, check with your local zoning department to find out how high a new fence can be on your property.
Fencing material
Continuing with the above idea, dogs that are adept at climbing need a fence that discourages this behavior. A smooth PVC/vinyl fence or an aluminum fence with gaps between the posts might work well. Chain link is not a good fence for climbers and escape artists.
Visibility with different types of fences
Do you want to keep your dog contained while still allowing him to see the world outside? Then go with a fence with open slats or a chain link fence. However, some dogs go crazy when they see a cat or a squirrel – or even a person – outside their "area," so a solid wood or vinyl fence might be ideal to prevent excess barking and agitation.
The most important purpose for fencing for pets is to keep the pets safe. Beyond that, a fence makes a statement about your property, so give some thought to the ideal fencing style and material that would best accent your home.
A Perfect 10 Fencing of Brooksville, FL, installs exceptional fencing solutions for pets and people throughout Florida's Hernando, Pasco and Citrus counties. Get on the road to the perfect fence by calling (352) 606-2623.